I'd seen this book as part of a display in Waterstones on more than one occasion, added it to my TBR pile and moved on.   When Our Shared Shelf ran a competition to win a copy dived straight in feeling hopeful, and was rewarded with a lovely hardback copy of the book. ( thanks to Little, Brown and Company  for sending it to me)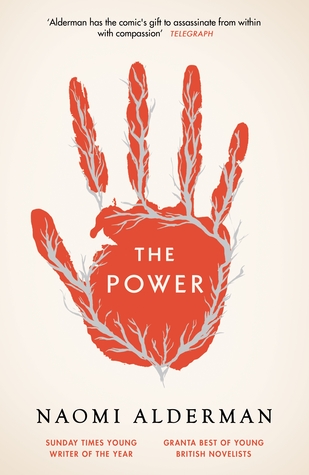 The premise of the book is that Women & Girls have 'The Power', gifted to them by their female God.  The world is changing and men are no longer in charge.    This power is your Skein.  The book deals with Rape, slavery, prostitution, abuse and channels and turns the tables on the male characters. 
As a fan of Buffy the Vampire Slayer I've long been of the belief everyone with the power ( to be a slayer) shall have it, so this wormed it way right into my heart.
We start ten years ago, with a handful of Narrative characters, some more powerful than others, with many of the female characters having been wronged, or frustrated by men.
Roxy is the first to be introduced; she remained my favourite character throughout the book. The daughter of an underworld criminal – I almost envisaged her as the daughter of the Krays in my mind, just smarter and more resourceful.  Darrell, Roxy's brother also has a narrative in part, but is less memorable despite the big impact he has. 
Margot, the political figure and her daughter Jocelyn (Jos) whose power is a little different, less powerful.
Tunde, the Nigerian journalist. I disliked him at the beginning but grew to like him as the story went on, rooting for him to make it all the way to the end of the book.
Allie, also known as Mother Eve.  With a difficult abusive upbringing,  she kills the stepfather who rapes her , runs away and finds herself in a convent where 'The Voice' guides her to change the world.
There's a historical and scientific side to the book,  ancient artefacts and scientific data, reports to support what is happening, along with reminding us that there are animals out there ( the electric eel) where this way of life, as protection and aggression is the norm.
**Spoiler Alert**
I don't want to give too much away about the story but in short – Allie reinvents herself as Mother Eve, takes over the convent and with the help of the Voice encourages girls to join the movement. She holds sermons and promotes herself, using the media (and YouTube).  Roxy's mum has been killed and she wants to get away – sees Allie and goes to her. 
The Voice guides Allie to the knowledge the Roxy is the one they have been looking for. She is powerful and controlled.
Elsewhere as the world is panicking about this new ability, Margot has to undergo testing to remain suitable for her job. Can she control her Skein and pass the test? Her daughter has killed someone because she has no control, and her Skein doesn't work properly.  The creation of a training camp to help these girls supports her campaign and leads everyone to question if a Woman with power in power is a good or bad thing.
Tunde seizes the opportunity to document what is happening all around the world and becomes a journalist, reporting on the 'war' using both his own YouTube outlet and Major News channels to help fund his documentation.
Tatiana might have killed her husband to create Bossapara but what lengths will she go to so she can maintain control? There's a brilliant link to Saudi Arabia both in name but also by how Tatiana Rules.  Men have no power, no place in society and need to be owned.
This is a story of empowerment, revenge, family business – competition, money and loyalty and how both sexes react when power shifts.  
I'm glad I had this as a physical book and not an eBook. There are some wonderful images, and the way the reports and blogs are included gave the story a real feel.  Sometime I feel I lose some of this in an eBook, so my recommendation is to go out now and buy this.  Not only is it a good way to pass the time but Little, Brown suggest that a book can recommend a person.